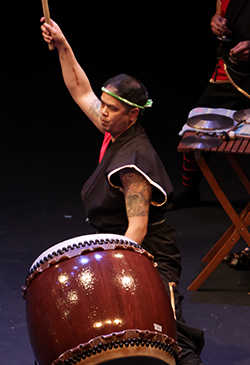 Curtis Adachi
Born and raised in Vancouver, Curtis began his percussion studies while attending Killarney high school. He first became interested in taiko drumming while watching a taiko group perform at the Powell Street Festival in 2009. In October of 2009, Curtis was introduced to Tokidoki Taiko, who were looking to expand their membership. The group invited Curtis to try a three-month try out and he has never looked back. He would like to take this time to thank all his band mates for making his first taiko experience such a fun and positive one.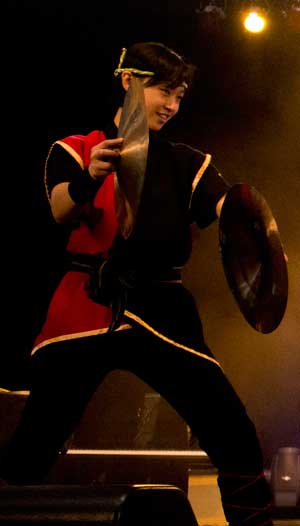 Elaine Ginn
Elaine got interested in taiko after joining Chibi Taiko's adult classes in 2008. Since then she has been playing with Gold Buddha Monastery Taiko (GBM Taiko) and Ten Drum Art Percussion Group. She also played with Tokidoki Taiko before helping form Sansho Daiko. "I eat mochi (rice cakes), I play taiko."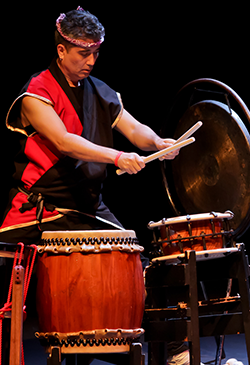 John Endo Greenaway
John was a founding member of Canada's first taiko group, Katari Taiko, and Canada's first professional taiko group, Uzume Taiko, with whom he toured extensively across Europe and North America. He spent five years as assistant instructor with Chibi Taiko, Canada's first youth taiko group. He is a freelance graphic designer and editor of The Bulletin, a journal of Japanese Canadian community, history and culture. John is happy to have drummed with his two daughters, Emiko and Kaya, in Chibi Taiko and his wife Amy in Sansho. A highlight was when the whole family travelled to Onomichi with Chibi Taiko in the summer of 2009 for a collaboration with Onomichi's Betchar Taiko.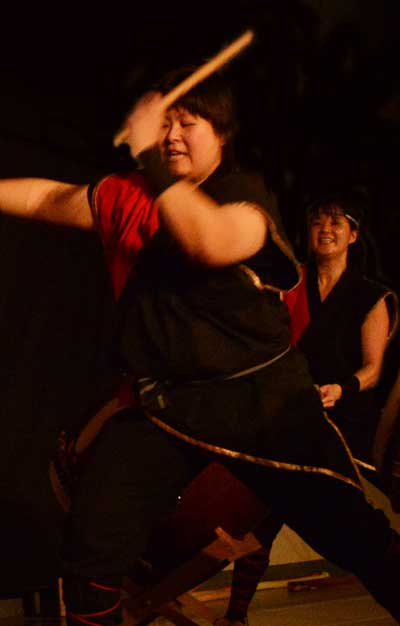 Cheryl Lee
Cheryl helped create the Gold Buddha Monastery Taiko (GBM Taiko) group in 2008 and with other members of the group, studied traditional taiko drumming under Shinobu Homma. She has played with Tokidoki Taiko and helped formed Sansho Daiko. "What I love about Sansho Daiko is the fun, laughter, and the food that keeps us going . . ."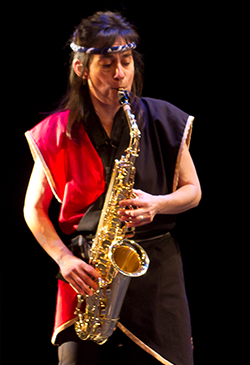 Amy Newman
Amy Newman was first introduced to taiko in 1990 when she joined Uzume Taiko as a saxophone player. She later trained as a taiko drummer and spent six years touring internationally with Uzume. Amy has recorded and co-composed music for two taiko CDs and later joined the community-based taiko ensemble Tokidoki Taiko in order to balance the needs of her family and job of elementary music teacher. Amy has a Masters degree in music education focusing on taiko drumming in the elementary classroom. She is excited to be a part of Sansho Daiko and is learning to play fue to add a new timbre to the group's sound.
Kanata Soranaka
Kanata is thrilled to have been able to re-connect with her Japanese heritage through her involvement in taiko. She completed her musical training in piano performance at the UBC school of music, and has been a member of the original Steveston Tera Taiko ensemble as well as Tokidoki Taiko. She currently teaches grade 3/4 at Topham Elementary School in Langley, BC, where all students from kindergarten to grade 7 have the opportunity to learn Japanese. Kanata has been instructing the Topham Tora Taiko Club at the school for six years and is excited about the growing enthusiasm for taiko in the Walnut Grove Community.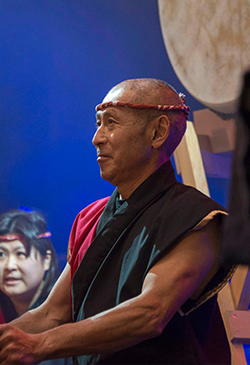 Tamotsu Tongu


Tom saw a performance by the Japanese taiko group Kodo while living in Calgary in 1989. Inspired by their performance, he and four friends started their own group but with no instructor were unable to maintain their enthusiasm and the group folded. Tom moved to Vancouver in 2002 and in 2008 had a chance to play taiko again, this time with Chibi Taiko's adult class. He then joined Tokidoki Taiko and then Sansho.Tom says, "It's never too late to start playing taiko!"